Copies (8.5 x 11 Glossy suitable for framing) available - See bottom of page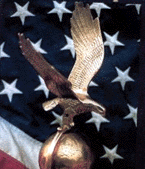 It's Our Flag
Its our flag, our country and our land
With our heroes, we shall always stand
As they deploy in those faraway lands
To destroy every terrorist band

The Stars and Stripes is shining bright
The flag is flying through the night
Our heroes move, but out of sight
Except the planes in constant flight

The Stars and Stripes is underway
Moving against tyranny for the USA
Armed with the memory of that September day
When terrorists struck to take her heroes away

God bless the Army, Navy and Marines
Coastguard and Air Force on the scene
Seek justice, freedom's mobile team
Under God's mighty light beam

It's our flag, our country and our land
With our heroes, we shall always stand
As they deploy in those faraway lands
To destroy every terrorist band


God Bless America and God Bless the Stars and Stripes

Copyright 2001 Bud Hannings Seniram Publishing, Glenside Pennsylvania 19038
Full color copies 9x12 including text and photo (photo shown at top of page), suitable for framing available. Order one or more today. Send $3.50 including shipping to Seniram Publishing, P.O. Box 432, Glenside, Pennsylvania 19038 Additional copies (with order) including any of the five Patriotic Tributes available are $2.00 each. Or order the full set of five posters for $10.00 including shipping. These include The Eternal Flag (9x12), It's Our Flag (8.5x11), There's Our Flag (8.5x11), God's Shining Light (8.5x11) and Lest We Forget (8.5x11).
Also, get one poster of your choice free with purchase of any of our books. Just include your selection with your book order.

Bulk Rates Available.